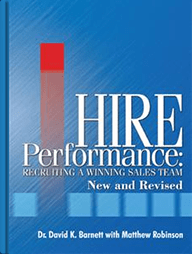 Recruiting a Winning Sales Team New and Revised

By Dr. David K. Barnett, Matthew Robinson
Busy managers and bottom-line entrepreneurs are faced with one of the toughest challenges in all of business: hiring a sales team that can really sell. In Hire Performance, authors Dr. David K. Barnett and Matthew Robinson provide novice and professional recruiters with a turnkey selection system that replaces guesswork with science and gut-feel with confidence.
KEYNOTE SPEAKING
ALLOW US TO HELP YOU MAKE YOUR EVENT A SUCCESS
Matt Robinson Keynote – The 5 Keys to Influence
Our "Keys to Influence" keynote is designed to help professionals improve their communication effectiveness in every conversation, whether internal as a member of a team or external in providing service to clients or when selling to prospects.
We introduce participants to 5 "emotional needs" that drive behavior. By understanding these "emotional needs" participants develop improved ability to accurately predict behavior based on a deeper understanding of why people do what they do and then develop skills to use complex influence strategies.
This is accomplished by first helping participants understand their own "emotional needs" and how they can impact their own behavior as they communicate with others. For some the challenge will be "listening" for others "relating". At times the challenge comes in the form of "closing" and "telling". The second half of the keynote focuses on identifying the "emotional needs" of the individual you are interacting with at any given time. Participants will be walked through what drives an individual's behavior and then introduced to quick tactics to identify what "style" type they are interacting with and associated best practices for communicating with each "style".
Duration of Presentation: 90 minutes
Testimonials:
Best presentation of the conferenceS. Jensen -Sales Representative
Very helpful, I'm going to start practicingB. Stevens -Sales Manager
Very well presented, funny and informativeS. Johnson -Vice President of Sales
Rod McKinnis Keynote – The Art and Science of Sales
Discover the secret to Higher Profit Margins, Superior and Sustainable Sales Performance Gains…
The Art and Science of Sales keynote is a highly entertaining, keynote that reveals superior sales intelligence to serve as a catalyst for "margin proof" sales excellence. The keynote includes:
How to Connect with Buyers in 6 Seconds
How to accelerate sales growth
Laser-honed strategies to overcome objections and close more efficiently and effectively
Highlight specific behaviors statistically proven to help Sales Reps, Managers and Marketing staff maximize potential in both Sales and Service sectors
Duration of Presentation: 90 minutes
Testimonials:
Rod is strategically brilliant, he does not miss.J. Bunch -President Retail Distribution | TD Ameritrade
I went on a tear after our meeting and finished up 150% for October, your teaching and motivation have been very, very helpful.R. Gitell -Thomson Reuters
Rod, Thanks again for all the great information you loaded me up with today at the USA Dallas Workshop! This was without a doubt the most informative workshop I have ever attended. One word – Awesome!L. Johnson -Sales Rep NY Life